G1.Assassin (rev. 1.0)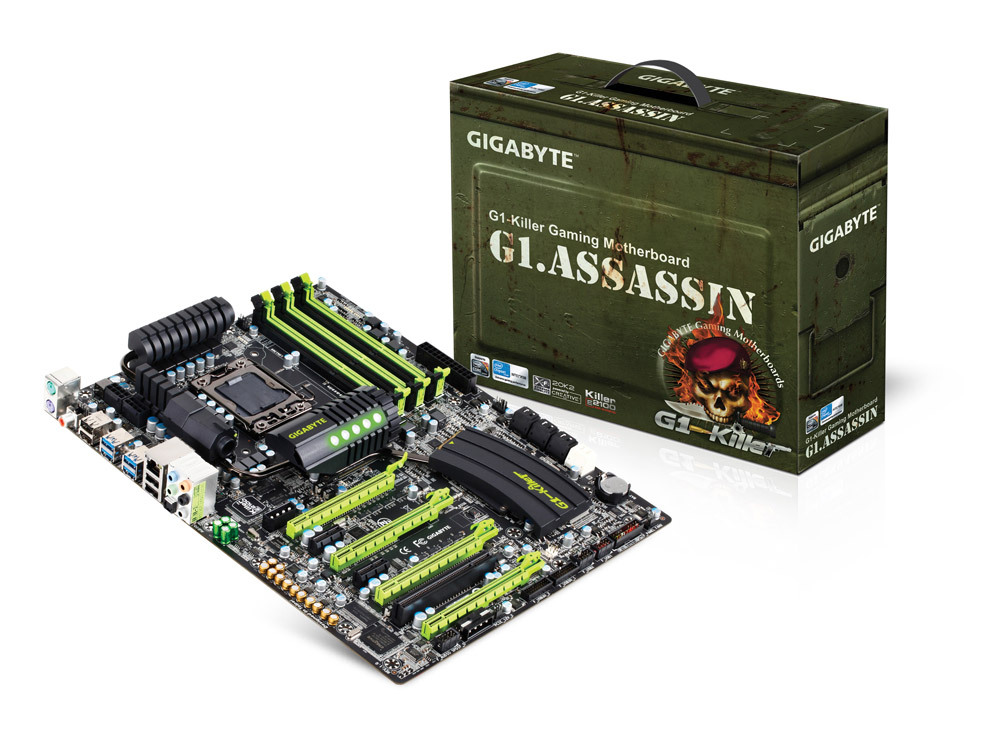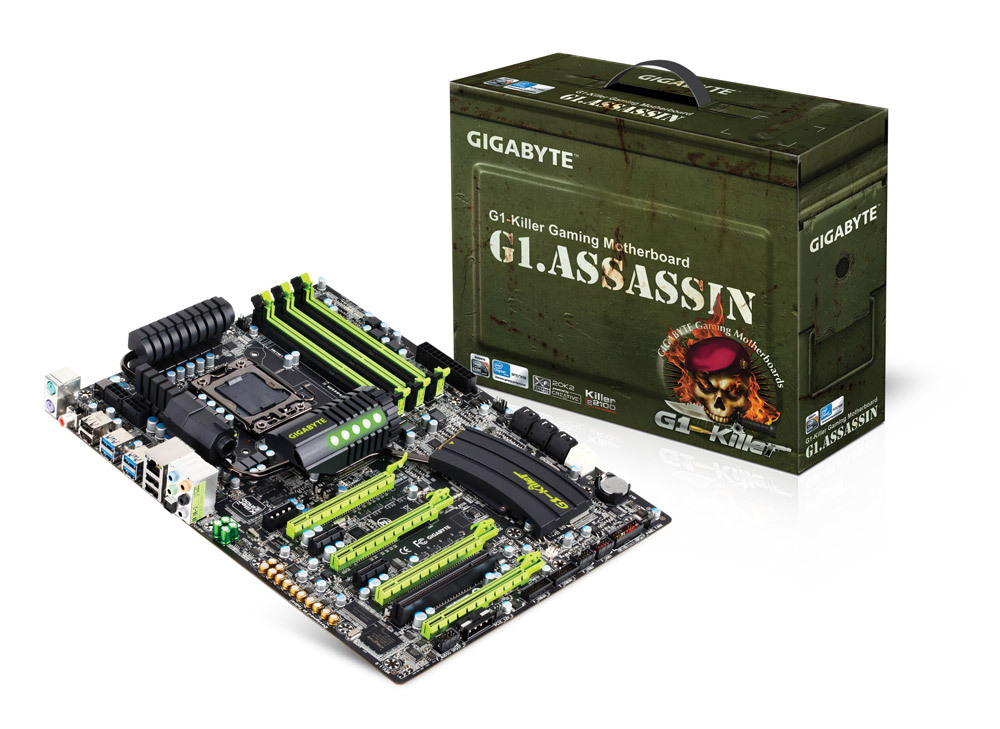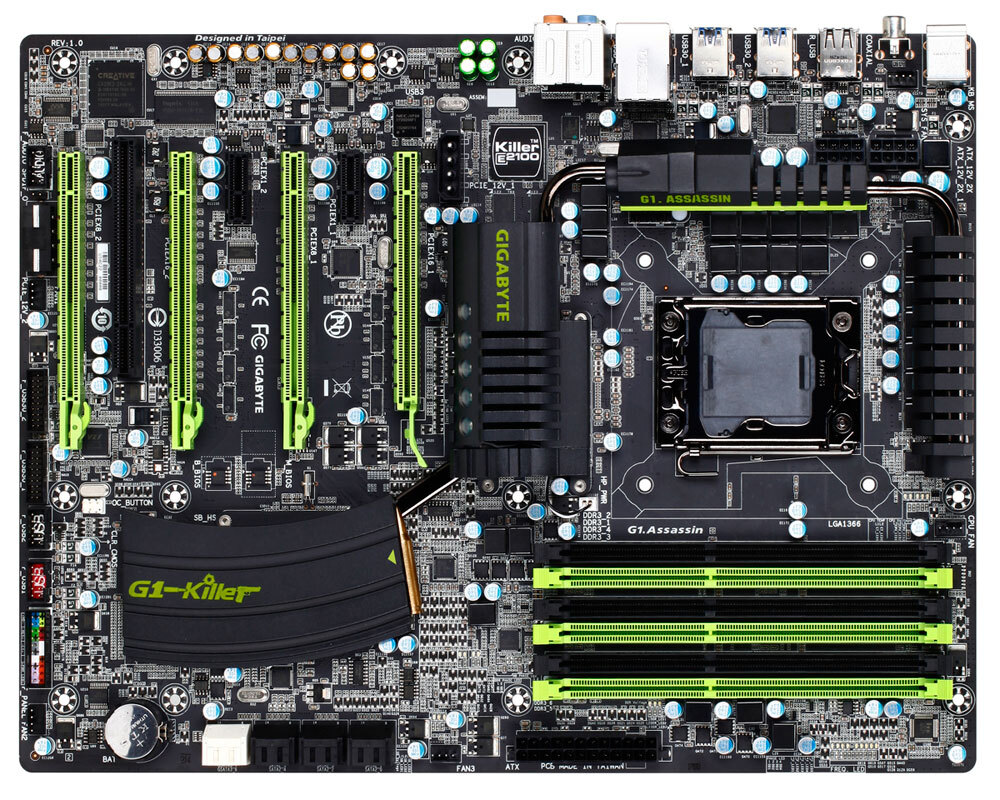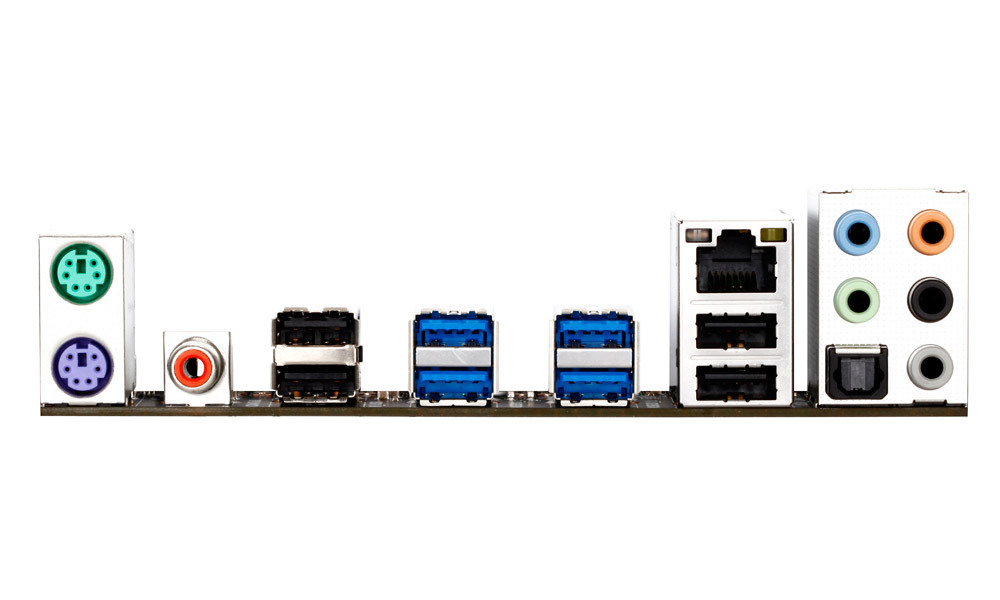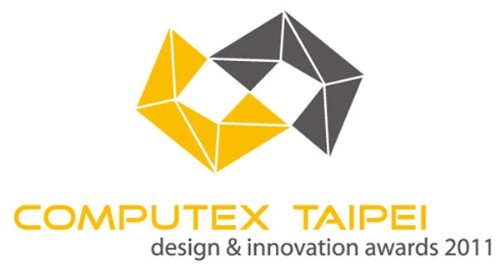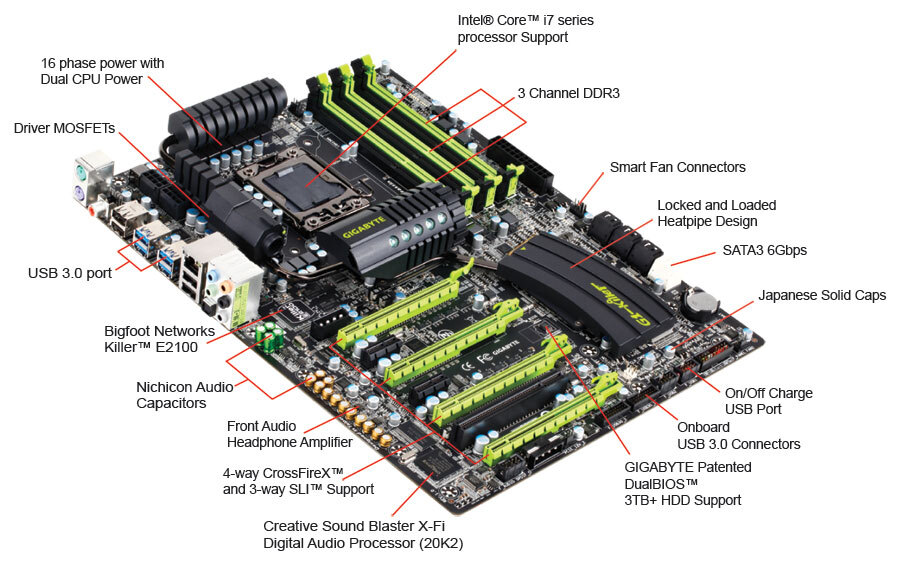 Industry leading 16 phase power VRM design with Dual Power Switching Technology
3-way SLI and 4-way CrossFireX multi-graphics support for ultimate graphics performance
Featuring Bigfoot Networks Killer™ E2100 LAN onboard for Game Networking Platform
Front Access Control Panel with Quick Boost button enabling instantaneously overclocking
Creative's top-of-the-line 20K2 digital audio processor onboard with X-Fi Xtreme Fidelity™ and EAX AHD 5.0 technologies
Utilizing high capacity amplifier for professional audio usage
Nichicon MUSE Audio Capacitors create the highest quality sound resolution and sound effects
5 sets Smart Fans strategically eliminate the thermal
Driver MOS delivers the lower power loss and higher power efficiency
Patented GIGABYTE DualBIOS™ now supports 3TB+ (terabytes) hard drive booting
Locked and loaded heatpipe design
Front USB 3.0 and front eSATA port panel provide outstanding connectivity
Ultra Durable 3 Technology with copper cooled quality for lower working temperature
Supports USB 3.0 with superfast transfer rates of up to 5 Gbps
GIGABYTE 3x USB Power with On/Off Charge USB ports
High speed SATA6Gbps storage interface with RAID
Being able to hear where your enemy is located before you see them can put you at a distinct advantage in most gaming situations. That is why GIGABYTE has rigged the G1.Assassin motherboard with the industry's most advanced audio solutions all onboard; giving you the highest caliber audio experience. GIGABYTE G1.Assassin is the world's only gaming motherboard to feature Creative's top-of-the-line Soundblaster Digital Audio Processor (20K2) onboard with X-Fi Xtreme Fidelity ® and EAX ® Advanced HD™ 5.0 technologies, allowing you to experience sound in your gaming world exactly as you would in real life.
DTS™ Connect
DTS Connect is the perfect solution to enhance your entertainment experience using your home theater's Audio/Video Receiver. DTS Connect is comprised of two DTS technologies including DTS Neo: PC™ which takes 2-channel (stereo) audio and transforms it into a full-bandwidth matrix of your speaker layout (up to 7.1 channels) and DTS Interactive™ which encodes digital audio sources into DTS Digital Surround, which can then stream out to your Audio/Video Receiver using a S/PDIF connection.
Built-in Front Audio Headphone Amplifier
Specially designed for gamers, GIGABYTE G1.Assassin utilize a high capacity amplifier which is able to drive 150Ω loads, allowing gamers to enjoy a fuller range of dynamic sound with crisper details and less distortion when using high quality professional headphones. The amplifier also features wide band-width, low noise, high slew rate and low distortion, making it ideal for professional audio usage. In addition, GIGABYTE has equipped G1.Assassin motherboard with 4 additional amplifiers onboard for the center/sub woofer, rear speaker, side surround and line out.
Nichicon High-end Audio Capacitors
GIGABYTE G1.Assassin motherboard utilizes the highest quality Nichicon MUSE ES series and MW series Bi-Polarized audio capacitors at each channel layout. These professional audio capacitors deliver the highest quality sound resolution and sound expansion to create the most realistic sound effects for professional gamers.
Killer™ E2100 Dedicated NPU
Dedicated Network Processing Unit (NPU) with 1Gb of dedicated DDR2 memory helps offload network traffic from the CPU, freeing it up to do other important computing tasks.
Game Networking DNA™
Bigfoot Network's exclusive Game Networking DNA™ software offloads gaming data directly to the NPU by bypassing the Windows Network Stack, delivering tremendous speed benefits which allow you to move quicker, shoot faster and win bigger.
Up to 10X Faster
Whether you're playing MMOs or first-person shooters, the Bigfoot Networks Killer™ E2100 game networking platform delivers up to 10X faster networking performance for a whole new level of online gaming performance.
As part of its box kit, the G1.Assissin motherboard features a convenient Front Access Control Panel that allows quick and easy access to 2 USB 3.0 ports and Power eSATA. The Front Access Control Panel also features a Quick Boost button that allows gamers to instantaneously overclock their system with a single press of a button. Imagine being in the thick of battle and being able to get a super charged on-the-fly performance boost without the need for a system reboot.
SATA 3.0 (6Gbps) and USB 3.0
When you're behind enemy lines, intelligence data latency can get you killed. That is why GIGABYTE G1.Assassin motherboard provides ultra fast data transfer performance with onboard integration of the latest SuperSpeed USB 3.0 for up to 8 ports (4 front panel, 4 back panel), SATA Revision 3.0 (6Gbps) technologies from Marvell, and an unprecedented 3x USB power boost on all USB ports for the most power hungry USB devices.
The GIGABYTE G1.Assassin features a brand new heatpipe that was designed to be as deadly to heat as it looks. By effectively spreading the heat from the critical areas of the motherboard such as the CPU VRM zone and quickly dissipating it, GIGABYTE G1.Assassin motherboard remain cool, even when the battle heats up.
Modeled after the common firearms issued to soldiers deployed to a warzone including pistol, rifle and ammo clip, the Locked and Loaded heatpipe design utilizes a unique fluting technology similar to a rifle barrel fluting, which allows for maximum heat dispersion.
G1-Killer™ CPU-Z is a specially 'Weaponized' GIGABYTE G1-Killer version of the popular CPU-Z hardware detection app, providing details about your system's CPU, memory and mainboard configurations, wrapped in a user interface that is more suited to your killer instincts. Click here to download.
Источник
Gigabyte g1 assassin драйвера
Загрузить драйверы
Gigabyte Socket 1366 G1.Assassin (Intel X58)

Обновление драйверов Socket 1366 G1.Assassin вручную:
Эти стандартные драйверы Socket 1366 G1.Assassin можно найти в %%os%% или загрузить из обновления Windows®. Хотя эти драйверы Motherboard в комплекте включают основные функции, они обычно не охватывают все аппаратные функции. Следуйте нашему полному пошаговому руководству, чтобы обновить драйверы устройств Gigabyte.
Производитель:
Gigabyte
Тип устройства:
Материнская плата
Обозначение:
Socket 1366
Серии:
Intel X58
Номер модели:
G1.Assassin
Операционные системы:
Windows XP, Vista, 7, 8, 10, 11

Программная утилита для автоматического обновления Socket 1366 G1.Assassin:

Рекомендация: Начинающим пользователям Windows настоятельно рекомендуется скачать средство для обновления драйверов, например DriverDoc [DriverDoc — Продукт от Solvusoft], чтобы выполнить обновления драйверов Gigabyte Материнская плата. Данный инструмент выполнит всю работу за вас. Он автоматически скачает и обновит драйверы Socket 1366 G1.Assassin, предотвратив установку неправильных драйверов для вашей версии операционной системы.

Кроме того, при использовании DriverDoc для обновления драйверов Материнская плата, вы также сможете обновлять все остальные драйверы на вашем ПК, используя нашу обширную базу, содержащую более 2 150 000 драйверов (пополняется ежедневно) для любых аппаратных устройств.

G1.Assassin Часто задаваемые вопросы относительно обновления

Драйверы Socket 1366 G1.Assassin работают на каких операционных системах?

Windows имеет действительный драйвер для Socket 1366 G1.Assassin.

Почему люди не обновляют драйверы Socket 1366 G1.Assassin?

Большинство людей не выполняют обновления драйверов Socket 1366 G1.Assassin, потому что они могут столкнуться с ошибками или сбоями.

Каков процесс обновления драйверов Socket 1366 G1.Assassin?

Два основных способа обновления G1.Assassin драйверов — вручную с помощью диспетчера устройств или автоматически с помощью программного обеспечения для обновления драйверов.

Когда самое подходящее время для обновления драйверов Socket 1366 G1.Assassin?

Как правило, после крупных обновлений Windows следует обновлять драйверы устройств Socket 1366 G1.Assassin.

Сложности управления водителем

Ошибки Socket 1366 G1.Assassin могут быть коренятся в устаревший или поврежденный драйвер устройства. Водители будут работать в один прекрасный день, и по разным причинам внезапно бросили работу на следующий день. Захватывающая новость заключается в том, что вы, скорее всего, можете обновить драйверы устройств Материнская плата, чтобы избежать неисправностей.

Поиск правильного драйвера Socket 1366 G1.Assassin на веб-сайте Gigabyte может быть очень сложным и часто может занять много времени на поиск. Процесс обновления драйверов устройств Socket 1366 G1.Assassin, даже для опытного пользователя компьютера, все еще может занять длительные периоды времени и стать повторяющимся для периодического выполнения. Это проблематично, поскольку установка неправильного или несовместимого драйвера потенциально приведет к худшим результатам.

Чтобы оставаться в курсе всех основных новых функций драйверов, мы предлагаем пойти с программой обновления драйверов. Услуги по обслуживанию драйверов убедитесь, что ваши драйверы обновлены и что у вас есть резервная копия текущих драйверов перед загрузкой новых драйверов. Наличие файла резервной копии драйвера поможет вам откатить любой скомпрометированный драйвер до самой последней версии.

Источник

G1.Assassin (rev. 1.0)

Industry leading 16 phase power VRM design with Dual Power Switching Technology
3-way SLI and 4-way CrossFireX multi-graphics support for ultimate graphics performance
Featuring Bigfoot Networks Killer™ E2100 LAN onboard for Game Networking Platform
Front Access Control Panel with Quick Boost button enabling instantaneously overclocking
Creative's top-of-the-line 20K2 digital audio processor onboard with X-Fi Xtreme Fidelity™ and EAX AHD 5.0 technologies
Utilizing high capacity amplifier for professional audio usage
Nichicon MUSE Audio Capacitors create the highest quality sound resolution and sound effects
5 sets Smart Fans strategically eliminate the thermal
Driver MOS delivers the lower power loss and higher power efficiency
Patented GIGABYTE DualBIOS™ now supports 3TB+ (terabytes) hard drive booting
Locked and loaded heatpipe design
Front USB 3.0 and front eSATA port panel provide outstanding connectivity
Ultra Durable 3 Technology with copper cooled quality for lower working temperature
Supports USB 3.0 with superfast transfer rates of up to 5 Gbps
GIGABYTE 3x USB Power with On/Off Charge USB ports
High speed SATA6Gbps storage interface with RAID

Being able to hear where your enemy is located before you see them can put you at a distinct advantage in most gaming situations. That is why GIGABYTE has rigged the G1.Assassin motherboard with the industry's most advanced audio solutions all onboard; giving you the highest caliber audio experience. GIGABYTE G1.Assassin is the world's only gaming motherboard to feature Creative's top-of-the-line Soundblaster Digital Audio Processor (20K2) onboard with X-Fi Xtreme Fidelity ® and EAX ® Advanced HD™ 5.0 technologies, allowing you to experience sound in your gaming world exactly as you would in real life.

DTS™ Connect
DTS Connect is the perfect solution to enhance your entertainment experience using your home theater's Audio/Video Receiver. DTS Connect is comprised of two DTS technologies including DTS Neo: PC™ which takes 2-channel (stereo) audio and transforms it into a full-bandwidth matrix of your speaker layout (up to 7.1 channels) and DTS Interactive™ which encodes digital audio sources into DTS Digital Surround, which can then stream out to your Audio/Video Receiver using a S/PDIF connection.

Built-in Front Audio Headphone Amplifier
Specially designed for gamers, GIGABYTE G1.Assassin utilize a high capacity amplifier which is able to drive 150Ω loads, allowing gamers to enjoy a fuller range of dynamic sound with crisper details and less distortion when using high quality professional headphones. The amplifier also features wide band-width, low noise, high slew rate and low distortion, making it ideal for professional audio usage. In addition, GIGABYTE has equipped G1.Assassin motherboard with 4 additional amplifiers onboard for the center/sub woofer, rear speaker, side surround and line out.

Nichicon High-end Audio Capacitors
GIGABYTE G1.Assassin motherboard utilizes the highest quality Nichicon MUSE ES series and MW series Bi-Polarized audio capacitors at each channel layout. These professional audio capacitors deliver the highest quality sound resolution and sound expansion to create the most realistic sound effects for professional gamers.

Killer™ E2100 Dedicated NPU
Dedicated Network Processing Unit (NPU) with 1Gb of dedicated DDR2 memory helps offload network traffic from the CPU, freeing it up to do other important computing tasks.

Game Networking DNA™
Bigfoot Network's exclusive Game Networking DNA™ software offloads gaming data directly to the NPU by bypassing the Windows Network Stack, delivering tremendous speed benefits which allow you to move quicker, shoot faster and win bigger.

Up to 10X Faster
Whether you're playing MMOs or first-person shooters, the Bigfoot Networks Killer™ E2100 game networking platform delivers up to 10X faster networking performance for a whole new level of online gaming performance.

As part of its box kit, the G1.Assissin motherboard features a convenient Front Access Control Panel that allows quick and easy access to 2 USB 3.0 ports and Power eSATA. The Front Access Control Panel also features a Quick Boost button that allows gamers to instantaneously overclock their system with a single press of a button. Imagine being in the thick of battle and being able to get a super charged on-the-fly performance boost without the need for a system reboot.

SATA 3.0 (6Gbps) and USB 3.0
When you're behind enemy lines, intelligence data latency can get you killed. That is why GIGABYTE G1.Assassin motherboard provides ultra fast data transfer performance with onboard integration of the latest SuperSpeed USB 3.0 for up to 8 ports (4 front panel, 4 back panel), SATA Revision 3.0 (6Gbps) technologies from Marvell, and an unprecedented 3x USB power boost on all USB ports for the most power hungry USB devices.

The GIGABYTE G1.Assassin features a brand new heatpipe that was designed to be as deadly to heat as it looks. By effectively spreading the heat from the critical areas of the motherboard such as the CPU VRM zone and quickly dissipating it, GIGABYTE G1.Assassin motherboard remain cool, even when the battle heats up.

Modeled after the common firearms issued to soldiers deployed to a warzone including pistol, rifle and ammo clip, the Locked and Loaded heatpipe design utilizes a unique fluting technology similar to a rifle barrel fluting, which allows for maximum heat dispersion.

G1-Killer™ CPU-Z is a specially 'Weaponized' GIGABYTE G1-Killer version of the popular CPU-Z hardware detection app, providing details about your system's CPU, memory and mainboard configurations, wrapped in a user interface that is more suited to your killer instincts. Click here to download.

Источник